The NFL released its 2017 schedule on Thursday, including 16 weeks of Monday Night Football.
The league's Monday schedule for the upcoming season will lead off with a doubleheader, as has become customary.
All games will be televised on ESPN.
The schedule begins with the Saints and Vikings and Chargers and Broncos on Sept. 11. Highlight matchups over the course of the season include Broncos at Chiefs on Oct. 30, Lions at Packers Nov. 6 and Falcons at Seahawks Nov. 20.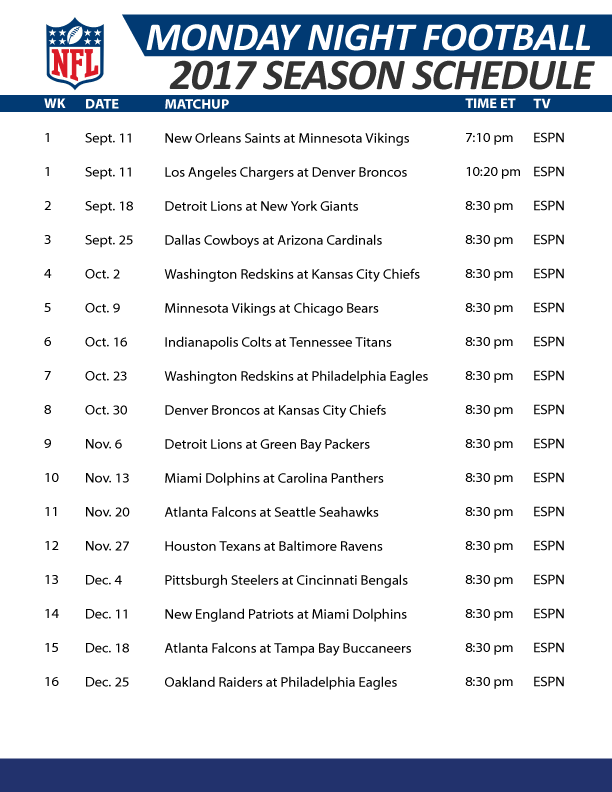 NFL Monday Night Football 2017 Schedule
Sept. 11 (doubleheader): Saints at Vikings, Chargers at Broncos
Sept. 18: Lions at Giants
Sept. 25: Cowboys at Cardinals
Oct. 2: Redskins at Chiefs
Oct. 9: Vikings at Bears
Oct. 16: Colts at Titans
Oct. 23: Redskins at Eagles
Oct. 30: Broncos at Chiefs
Nov. 6: Lions at Packers
Nov. 13: Dolphins at Panthers
Nov. 20: Falcons at Seahawks
Nov. 27: Texans at Ravens
Dec. 4: Steelers at Bengals
Dec. 11: Patriots at Dolphins
Dec. 18: Falcons at Buccaneers
Dec. 25: Raiders at Eagles
Save